ARE YOU WALKING WITH US?
Our Walk is less than 5 weeks away!!
Join us on Saturday, May 18th at Bushnell Park in Hartford or Sherwood Island State Park in Westport!
And remember, a Walk Teams is a great way to bring people together towards a common goal and enjoy a little friendly competition for a good cause! The more people that can form a Team and recruit walkers, the more awareness we will raise.
Create your Team or join a Team TODAY by CLICKING HERE


We are looking for a volunteer who can join us in the state office in Hartford one or two days a week for several hours to help with administrative duties, in particular supporting the Program Director.
Familiarity with Microsoft Office a real plus.

Big parking lot in back of building; on Farmington Avenue bus line.
If you're interested or have questions, please contact Pat at: admin@namict.org or 860-882-0236.
THANK YOU!
Attention all Golfers: Charity Golf Tournament!
All proceeds to All proceeds to benefit the National Alliance on Mental Illness of Connecticut.
Your donation helps give people with mental health challenges the support and education they need to manage their recovery, as well as will help fund community education programs and support groups. Your donation will also help the families that are affected by a loved one's mental health challenges.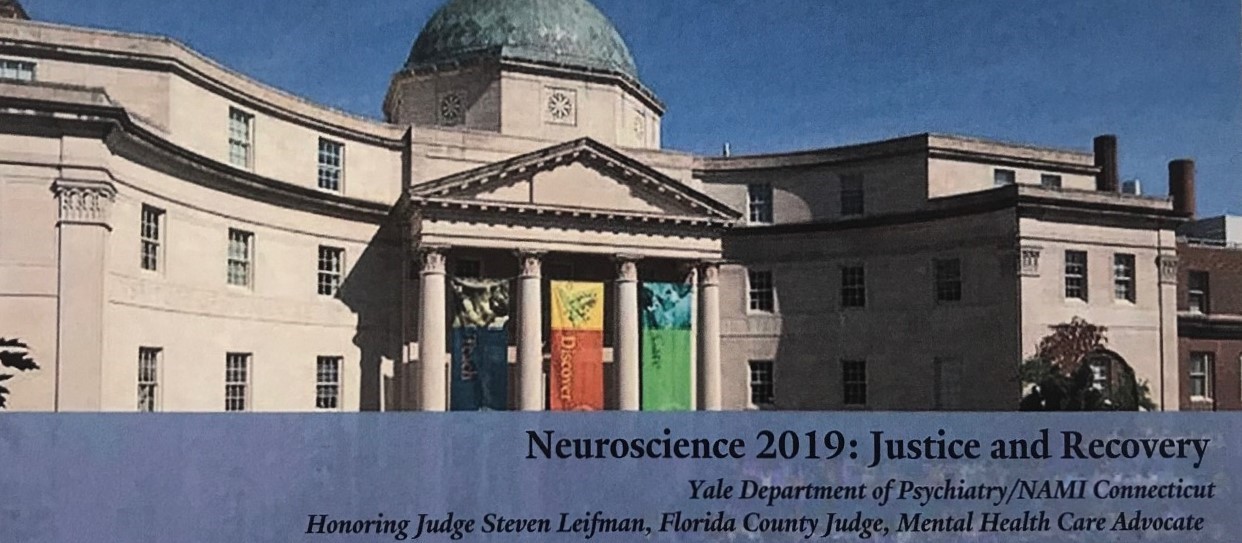 Neuroscience 2019: Justice and Recovery.
To be held Saturday, April 27, in New Haven.
Yale faculty will speak about new approaches to brain recovery from addiction, promising new research on bipolar disorder, and new technologies to enhance therapy for obsessive-compulsive disorder and anxiety. This event is free and open to the public!
New! The Connecticut Department of Veteran's Affairs (DVA) has established a "Mental Health Resources for Veterans and their Employers" webpage connecting users directly to a range of federal VA and state Department of Mental Health and Addition Service programs.
by Kate Mattias, MPH, JD
NAMI Connecticut Executive Director
Many of us have heard or read the statistics: 13% of children ages 8-15 experience a mental health condition; approximately 50% of chronic mental health conditions begin by age 14 and 75% begin by age 24. At the same time, the average delay between when symptoms first appear and intervention is 8-10 years...
The Essentials of Motivational Interviewing - 1-Day Intensive Workshop. To be held April 18, in Bridgeport. CEUs Available! $60 - Lunch Included
This one day of fast paced interactive learning will provide you with the foundational knowledge and skills to use Motivational Interviewing (MI) with your clients. Across a broad range of care settings, being able to successfully engage and harness clients' own motivations for making important life changes are key elements for success.
Raising the Volume on Mental Health in the Black Community A *NEW* Support Group
To be held the first and third Mondays of every month, in Hartford.
Do you want to make a Difference?
Spend a unique weekend experiencing and learning how to reach out to other individuals and families; how to initiate, run, maintain and facilitate NAMI family support groups.
To be held June 14th & 15th, in Litchfield, including an overnight stay (Friday) with all lodging and all meals included.
Volunteers NEEDED!
For the following events we need people to staff a table, hand out literature, and talk about all the great things that NAMI Connecticut and our local affiliates provide our state and our communities:
April 28th - Colchester Youth Services Community Wellness Fair, 11am-2pm

May 2nd - West Suffield High School Mental Health Resource Fair 5:00-6:30pm (followed by a speaker)

May 11th - Plainfield Family Fest, 10-3pm
For more information, and to volunteer for the above events, please contact the NAMI Connecticut office at (860) 882-0236 and ask to talk to Pat or send an email to admin@namict.org.
Yale Mood Study

Do you have Bipolar Disorder and are you 16-24 years old?
Find out about our free therapy to learn healthy habits/healthy skills.

If you are 16 to 24 years old and living with bipolar disorder, you may be eligible to participate in a free and confidential study that provides talk therapy to help regulate emotions and looks at how the brain works with advanced MRI brain scanning techniques. Compensation up to $360. Read More



For a complete list of other available Research Studies, please CLICK HERE.
NEW NAMI Young Adult Connection Groups Alert!
Starting March 12, every second and fourth Tuesday, at 6pm, in Manchester.
*AND*
Starting Friday, April 26, 6pm, in Glastonbury.
You are NOT alone!
URGENT! GROUP FACILITATORS NEEDED!
NORWALK: The Norwalk NAMI Young Adult Connection Group is in need of up to two young adult facilitators (ages 18-29) to lead at Healthy Minds, CT.
BRIDGEPORT: The Bridgeport NAMI Young Adult Connection Group is in need of one young adult facilitator to lead an upcoming peer support group.
GUILFORD: The Guilford NAMI Young Adult Connection Group is in need of two young adult facilitators (ages 18-29) to lead an existing peer support group.
EAST HADDAM: The East Haddam NAMI Young Adult Connection Group is in need of one young adult facilitator to lead an upcoming peer support group.
If you are interested in facilitating one of our groups and have been trained as a NAMI YACC Facilitator, please contact Val: yac@namict.org.
Not a trained facilitator? No problem! Please apply here: https://www.surveymonkey.com/r/YATrain
Still Time to Register for NAMI Basic Classes in Newtown + Greenwich
What is the NAMI Basics Education Program?

NAMI Basics is a free, six-session program designed for parents and other family caregivers of children and adolescents with emotional and behavioral difficulties.
NAMI Basics helps parents and other family caregivers of children to understand the illnesses that are causing those behavioral difficulties, and the critical role families play in the treatment of those illnesses.

The program is taught by trained teachers who are also the parents or family caregivers of individuals who experienced emotional or behavioral difficulties prior to age 13.


Family-to-Family Class in Milford - Summer 2019
NAMI Family-to-Family is a free, 12-session education program for family, partners, friends and significant others of adults living with mental illness. The course is designed to help all family members understand and support their loved one living with mental illness, while maintaining their own well-being. The course includes information on illnesses such as schizophrenia, bipolar disorder, major depression and other mental health conditions.
Thousands of families describe the program as life-changing.
The program is taught by trained teachers who are also family members and know what it is like to have a loved one living with mental illness.
Other Upcoming events:
There are are always many different events being held throughout the state of Connecticut. Events include: Keep The Promise Coalition Monthly Meeting, April 17, Middletown; Children's Resilience to Trauma From Surviving to Thriving, April 23, Stamford; Drop-In Centers as Low-Barrier Engagement Approach, April 23, WEBINAR; Nobody Likes a Bully, April 23, Guilford; The Big Sleep Out, April 27-28, Guilford; 2019 CT Opioid and Prescription Drug Overdose Prevention Conference, May 2, Bristol; KidSafe Parenting Conference, May 4, East Hartford; Special Needs Planning Workshops - multiple dates and locations; and MORE. To see the entire list, please visit our website!
For more information on the above, please click on the event. For more information on NAMI Connecticut classes, please visit our EVENT CALENDAR.
MENTAL HEALTH IN THE MEDIA
This edition of NAMI Connecticut's "Mental Health in the Media" features articles about:



and MUCH MORE!