Thursday March 28th 8:30am-4:30pm
NAMI Connecticut Office
576 Farmington Avenue, Hartford

Come Meet Your Fellow Walkers
Meet the NAMI Connecticut Staff
Register for the Walk
Get Help Setting Up Your Walk Page
Eat with Us While We Answer Your Questions
(Breakfast and Lunch is on Us)
Leave With A Goodie Bag!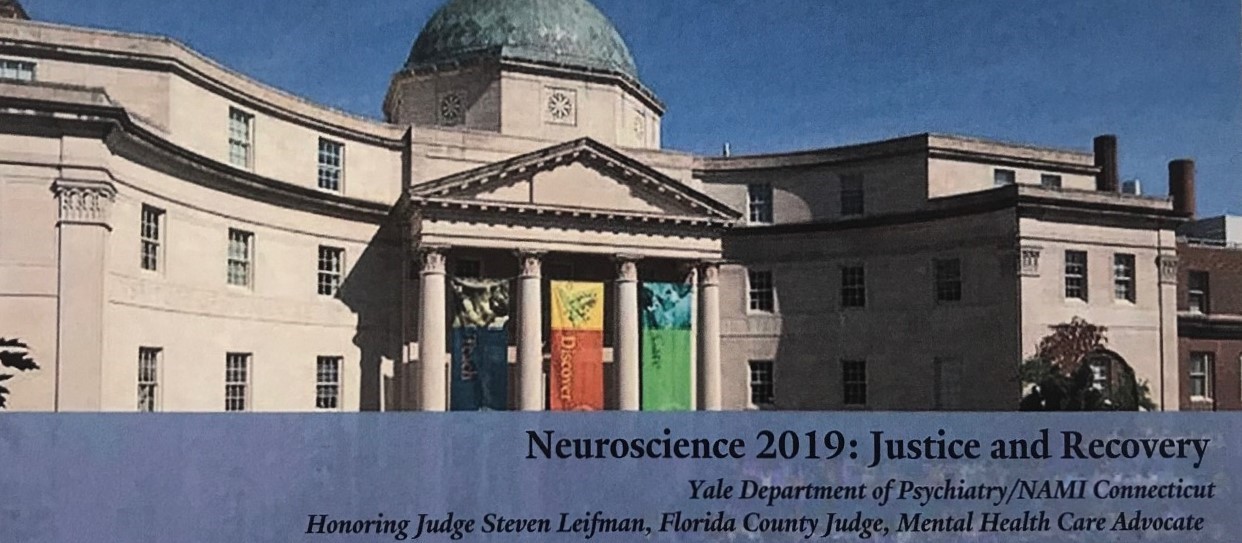 Neuroscience 2019: Justice and Recovery.
To be held Saturday, April 27, in New Haven.
Yale faculty will speak about new approaches to brain recovery from addiction, promising new research on bipolar disorder, and new technologies to enhance therapy for obsessive-compulsive disorder and anxiety. This event is free and open to the public!
The United Way of Connecticut provides a gateway to many great resources in the community. This month, their "Community Connection" eNewsletter is promoting the following services:
Connecticut Mission of Mercy, often referred to as CTMOM, is a two-day dental clinic that provides free dental care to underserved and uninsured Connecticut residents; it will be held at Windham Middle School on April 13 & 14. Clinic doors will open at 8:00 AM on both days and those seeking dental care will be seen on a first come, first served basis.
Volunteer Income Tax Assistance (VITA): Have You Filed Your Taxes? If you haven't, there is still time to file your taxes for FREE!
The Renters Rebate Program Starts in April. From April 1st to October 1st, Connecticut renters who are at least 65 years old (in most cases) or totally disabled and do not exceed certain income limits can receive rebates on the rent they have paid.
Safe Havens For Newborns Act. In 2000, the State of Connecticut passed the Safe Havens Act For Newborns, a law that allows anyone to safely drop off a newborn baby, within the first 30 days of life, to any hospital emergency room in Connecticut, without being subject to arrest for abandonment.
My Space Page, By NAMI Guest Blogger, Diane Frost
"My space has been, and is, always me defining how I will live with mental illness. I have one decision every day: will I be servant to my illnesses or not?
That being said, making this decision, can take me to a place of learning about positive motivation; or recognizing how heavy a burden I carry. The latter beckons me down a no-good path of woe..."
New! The Connecticut Department of Veterans Affairs Mobile Application allows Connecticut Veterans and residents to access crisis assistance, housing, healthcare, jobs and MORE by phone, text, and online chat. The CTVeterans mobile app is available for both Apple and Android mobile devices and connects Veterans, current service members and their families to a directory of services the state provides for Veterans, as well as access to the Veterans Crisis hotline and information on how to support veterans in the state. The new Mobile App can be downloaded free of charge from the iTunes Store and Google Play Store by searching the keyword "CTVeterans."
The Essentials of Motivational Interviewing - 1-Day Intensive Workshop. To be held March 21, in Wethersfield, *OR* April 18, in Bridgeport. CEUs Available! $60 - Lunch Included
This one day of fast paced interactive learning will provide you with the foundational knowledge and skills to use Motivational Interviewing (MI) with your clients. Across a broad range of care settings, being able to successfully engage and harness clients' own motivations for making important life changes are key elements for success.
Raising the Volume on Mental Health in the Black Community A *NEW* Support Group
To be held the first and third Mondays of every month, in Hartford.
Volunteers NEEDED!
For the following events we need people to staff a table, hand out literature, and talk about all the great things that NAMI Connecticut and our local affiliates provide our state and our communities:
May 2nd - West Suffield High School Mental Health Resource Fair 5:00-6:30pm (followed by a speaker)

May 11th - Plainfield Family Fest, 10-3pm

April 13th - St. Raphael's Parish Health, Wellness and Information Fair Milford 9am-1pm
For more information, and to volunteer for the above events, please contact the NAMI Connecticut office at (860) 882-0236 and ask to talk to Pat or send an email to admin@namict.org.
Be sure to check out NAMI Connecticut's newest support groups for families and individuals impacted by Opioid use.
In Glastonbury, Hartford, and Waterbury.
To view the flyers suitable for downloading and sharing, please click the following links:
Glastonbury Group
Hartford Group
Waterbury Group
Yale Mood Study

Do you have Bipolar Disorder and are you 16-24 years old?
Find out about our free therapy to learn healthy habits/healthy skills.

If you are 16 to 24 years old and living with bipolar disorder, you may be eligible to participate in a free and confidential study that provides talk therapy to help regulate emotions and looks at how the brain works with advanced MRI brain scanning techniques. Compensation up to $360. Read More



For a complete list of other available Research Studies, please CLICK HERE.
NEW NAMI Young Adult Connection Group Alert!
Starting March 12, every second and fourth Tuesday, at 6pm, in Manchester.
You are NOT alone!
"The Future of Mental Health Treatment? Ketamine and Ketamine-like Medications," with Dr. Steve Levine. To be held March 21, in Greenwich.
Dr. Steve Levine, board-certified psychiatrist and founder of Actify Neurotherapies, will give a free talk titled "The Future of Mental Health Treatment? Ketamine and Ketamine-like Medications."
Traditional medications for depression, anxiety and pain disorders often take a long time to work and cause negative side effects. Dr. Levine will discuss the use of ketamine infusions for tough-to-treat mood disorders. He'll explain what ketamine is, how it's administered, and its benefits.
The event is free of charge and will take place at 7:30 pm on Thursday, March 21, 2019 at Greenwich Town Hall, 101 Field Point Road, Greenwich, Conn.
This training will help you plan appropriate steps toward your child's future. This is an intensive three session learning opportunity, plus one additional session for follow-up. To be held at the UCONN Center for Excellence in Developmental Disabilities, 270 Farmington Avenue, in Farmington, CT.
Dates:
Session 1 – Wednesday, March 27, 2019 -- from 6:00 p.m. to 9:00 p.m.
Session 2 – Saturday, March 30, 2019 -- from 9:00 a.m. to 4:00 p.m.
Session 3 – Wednesday, April 3, 2019 – from 6:00 p.m. to 9:00 p.m.
Session 4 – Saturday, April 27, 2019 – from 9:00 a.m. to 1:00 p.m.
URGENT! GROUP FACILITATORS NEEDED!
NORWALK: The Norwalk NAMI Young Adult Connection Group is in need of up to two young adult facilitators (ages 18-29) to lead at Healthy Minds, CT.
BRIDGEPORT: The Bridgeport NAMI Young Adult Connection Group is in need of one young adult facilitator to lead an upcoming peer support group.
GUILFORD: The Guilford NAMI Young Adult Connection Group is in need of two young adult facilitators (ages 18-29) to lead an existing peer support group.
EAST HADDAM: The East Haddam NAMI Young Adult Connection Group is in need of one young adult facilitator to lead an upcoming peer support group.
If you are interested in facilitating one of our groups and have been trained as a NAMI YACC Facilitator, please contact Val: yac@namict.org.
Not a trained facilitator? No problem! Please apply here: https://www.surveymonkey.com/r/YATrain
Still Time to Register for NAMI Basic Classes in Newtown + Greenwich
What is the NAMI Basics Education Program?

NAMI Basics is a free, six-session program designed for parents and other family caregivers of children and adolescents with emotional and behavioral difficulties.
NAMI Basics helps parents and other family caregivers of children to understand the illnesses that are causing those behavioral difficulties, and the critical role families play in the treatment of those illnesses.

The program is taught by trained teachers who are also the parents or family caregivers of individuals who experienced emotional or behavioral difficulties prior to age 13.


NAMI Family to Family Classes: Winter/Spring 2019


NAMI Family-to-Family is a free, 12-session education program for family, partners, friends and significant others of adults living with mental illness. The course is designed to help all family members understand and support their loved one living with mental illness, while maintaining their own well-being. The course includes information on illnesses such as schizophrenia, bipolar disorder, major depression and other mental health conditions.
Thousands of families describe the program as life-changing.
The program is taught by trained teachers who are also family members and know what it is like to have a loved one living with mental illness.

Winter/Spring Classes are being held in: Danielson, Greenwich, Hamden, Manchester, Milford, New Canaan, New Milford, and Norwich!
Other Upcoming events:
There are are always many different events being held throughout the state of Connecticut. Events include: CAC 15 Legislative Breakfast, March 19, Hartford; Keep The Promise Coalition Monthly Meeting, March 20, Middletown; Successful Aging The Intersection of Physical and Behavioral Health, March 22, Wallingford; Problem Gambling Awareness Month Breakfast, March 22, Norwich; 2019 Mental Health & Wellness Expo, March 23, Clinton; Family & Youth Champions Needed for a Community Conversation, March 25, Torrington; Youth Mental Health First Aid, March 25 & April 1, West Haven; Community Connections Resource Fair, March 28, Ellington; Why Culture Counts: The Influence of Culture on the Clinical Relationship, March 28, Norwich; Student Mental Health Crucial Conversations, March 29, New haven; Special Needs Planning Workshops - multiple dates and locations; and MORE. To see the entire list, please visit our website!
For more information on the above, please click on the event. For more information on NAMI Connecticut classes, please visit our EVENT CALENDAR.
MENTAL HEALTH IN THE MEDIA
This edition of NAMI Connecticut's "Mental Health in the Media" features articles about:



and MUCH MORE!